Cheap Caribbean
e-Commerce website used to book cruises as well as Caribbean vacations and accommodations. Most of the work for this client was done to the account section of the website, while other efforts were being taken by other designers on other sections.
Preview:Wires
Role: UX Designer
Software: Axure
0
The Problem
Users are not using Cheap Caribbean to book their Caribbean vacations. Instead they are opting for third-party websites. When users are using Cheap Caribbean to book, there is a low returning customer rate.
Assumptions being made as to why this is the problem is that users do not see any higher value or advantage in choosing to book their trip with Cheap Caribbean.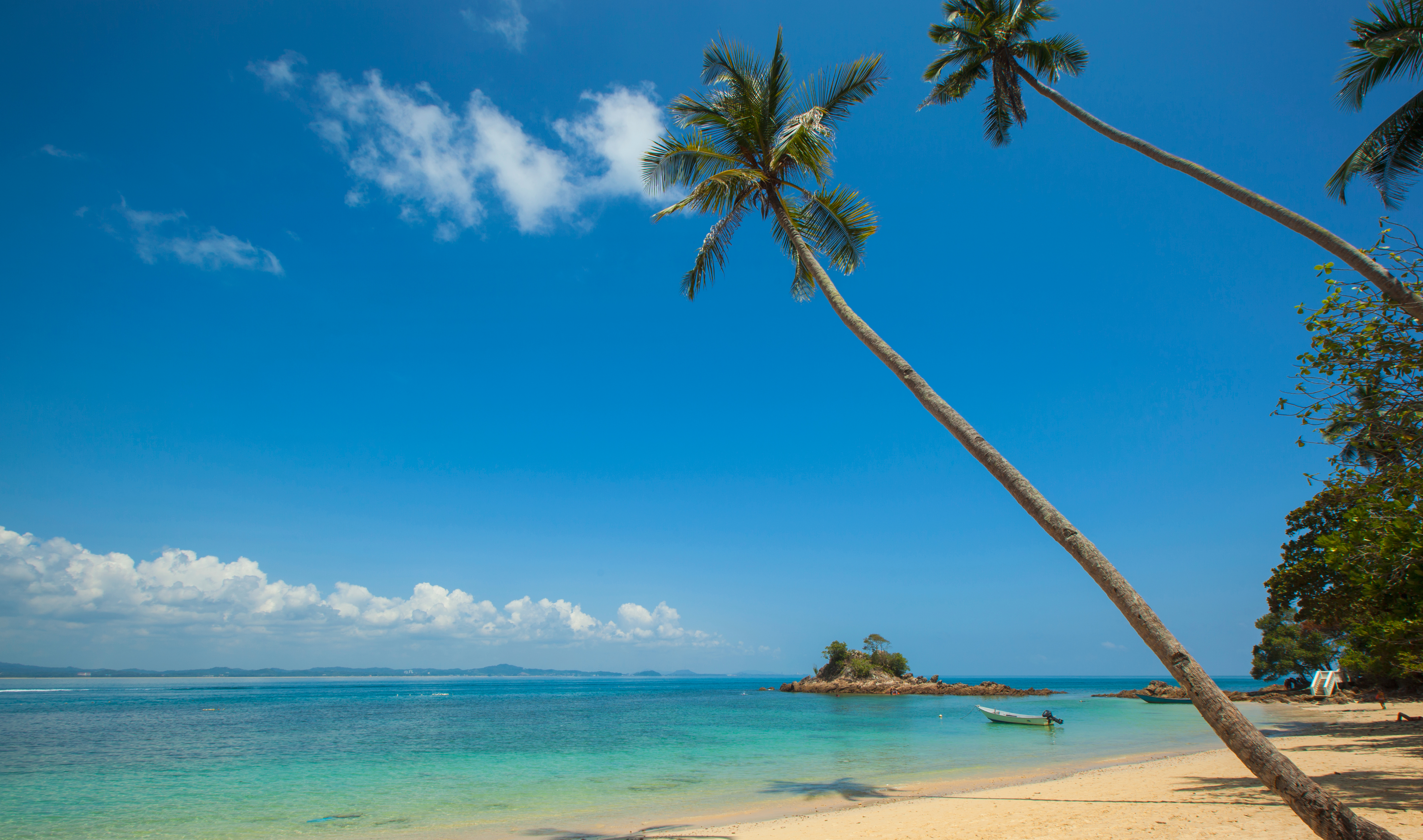 Beach Vacation Experts
In order to separate Cheap Caribbean from other booking competition, the Unique Selling Proposition places them as the 'Beach Vacation Experts.' When booking a caribbean trip, users should see added value and benefits in CC over other options.
With this USP in mind, one goal for the solution was to create a more engaging, useful MyAccount section that would provide value to the user.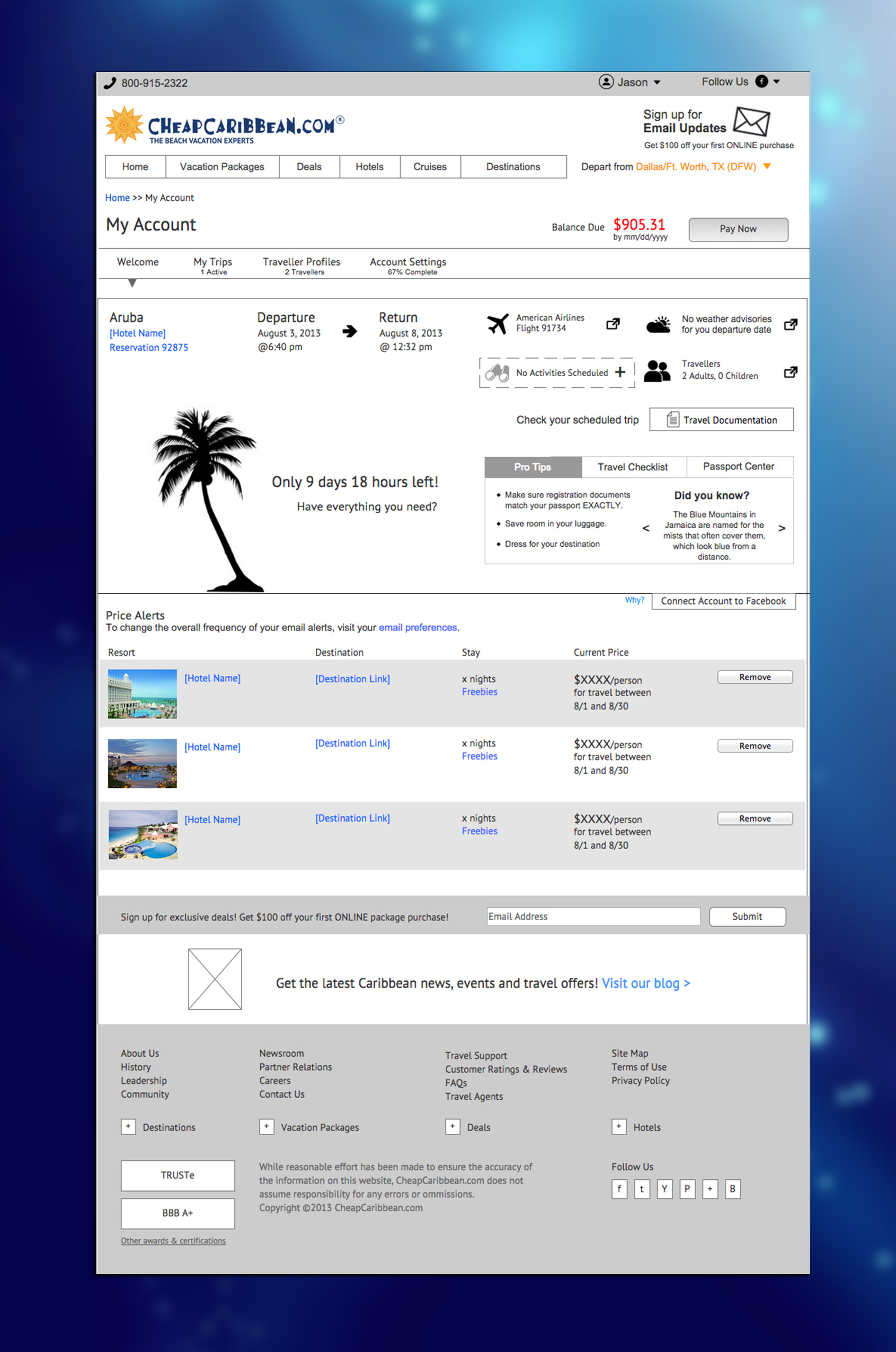 Going Beyond Booking
One of the main strategies behind the 'Beach Vaction Expert' USP was to provide location-specific knowledge and suggestions similar to things only a local would know about. By doing this, they could increase their value to the user by becoming more than just a source for booking a caribbean trip.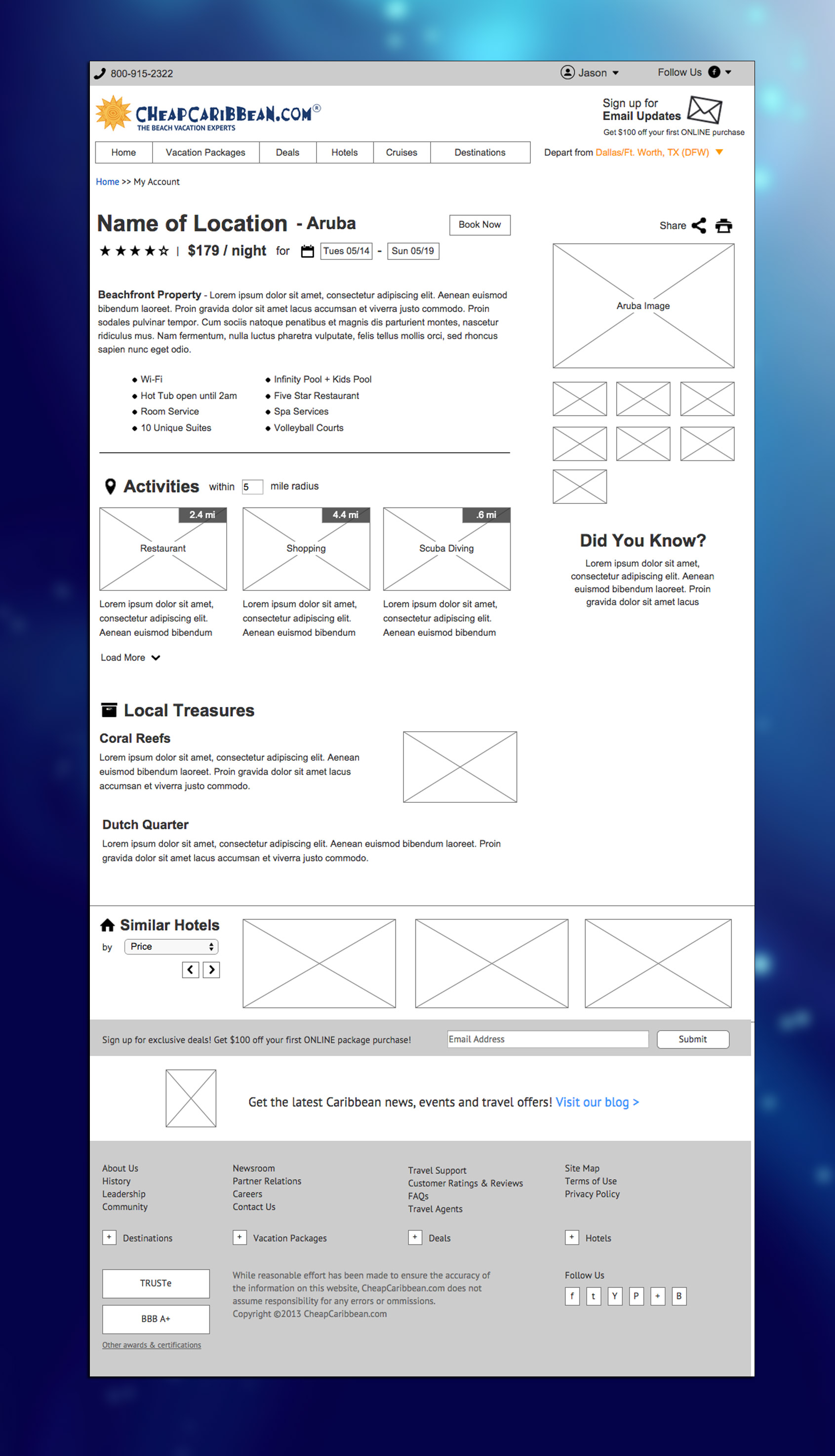 Return User Tactics
In order to increase the percentage of return users, one proposed solution was to offer their 'expert' caribbean suggestions via e-mail following a booking or account creation with suggestions and advice that are location-specific to either their booking or trips they had been considering. There were two separate but similar methods to the e-mail follow-ups that could be used for A/B testing.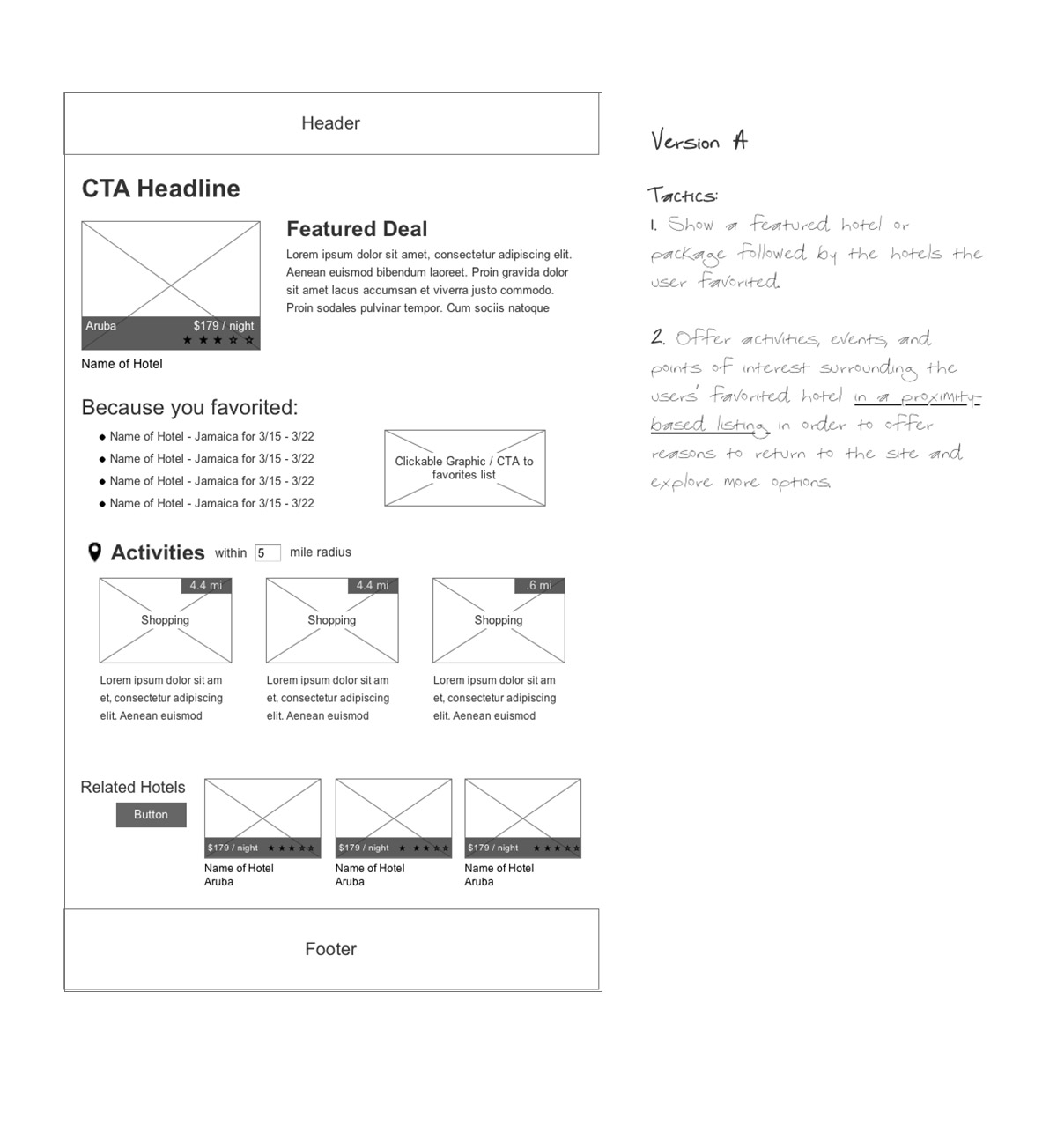 E-mail Approach A
This version places more emphasis on pushing a suggested booking based on previous bookings, current favorites, or recently visited trips. Secondly, it offers location-based suggestions.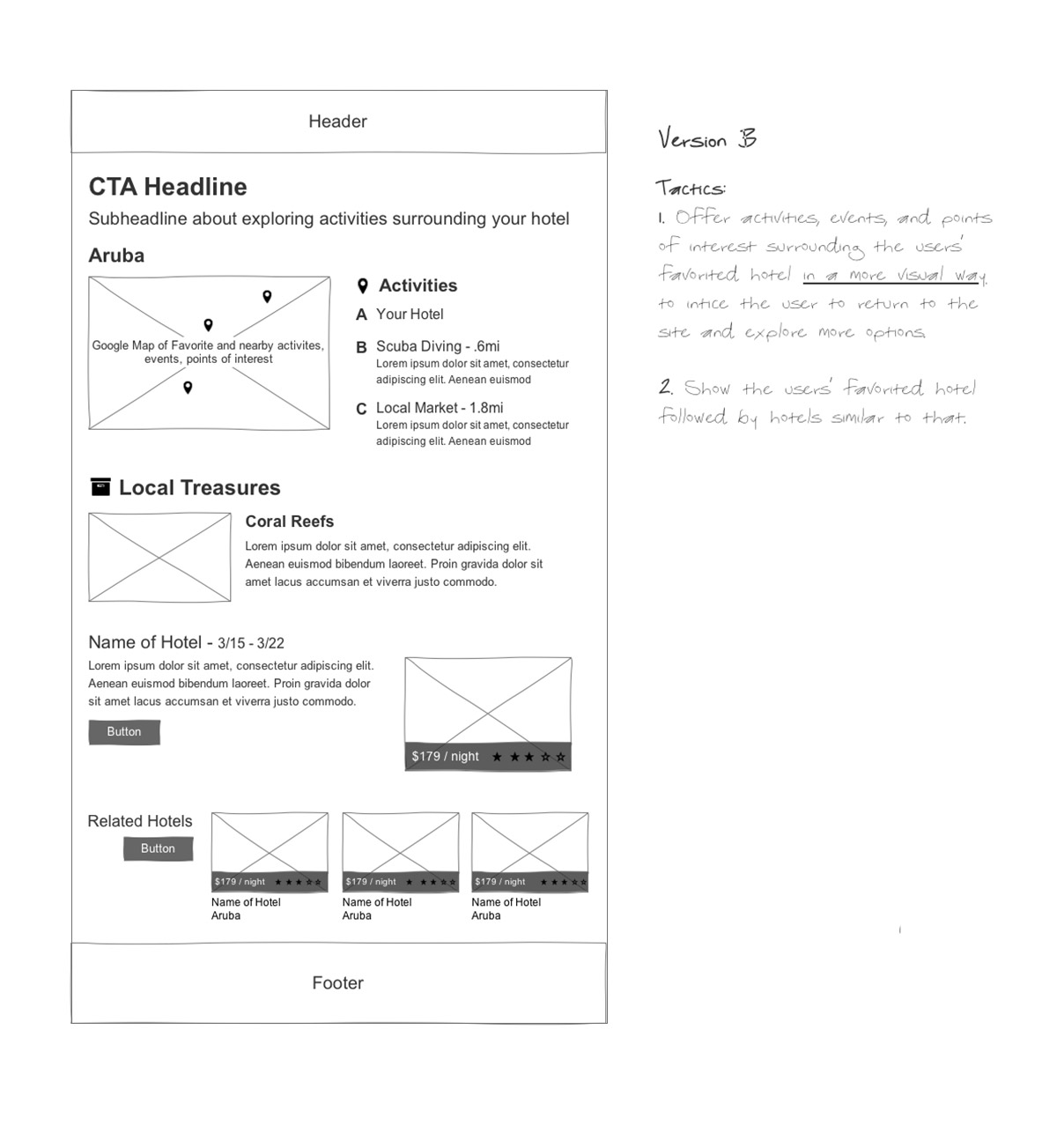 E-mail Approach B
This version uses more of a pull approach by placing emphasis on activities and 'hidden treasures' around current or potential bookings to create interest that would entice the user to look into new trips or add-ons. Secondly, it offers booking suggestions.
Results
Results were not able to be seen before changes in management steered efforts in a new direction.