Halliburton Rig Simulator
Immersive Learning Platform for Future Rig Workers
Challenge:
There was a considerable gap for future rig workers going from training materials and certification into real-life job scenarios. Users/Students needed a more immersive way to learn and prepare for going into various types of environments and making a smooth transition into difficult, often dangerous, position.
Opportunity:
In order to bridge the existing gap, an interactive, immersive training platform was built with precision and real-world scenarios they could never experience in a classroom. This enhanced preparation would put them right in the shoes (virtual) of what it would be like to be performing drilling operations.
Client: Halliburton
Role: UX/UI Designer
Build Platform:: WPF
1
Real-Job Training
The training application was built in order to give new hires a hands-on learning tool that teaches them to deal with real job scenarios they will encounter in the field. Previous learning material alone was not sufficiently preparing them for an easy transition into their job.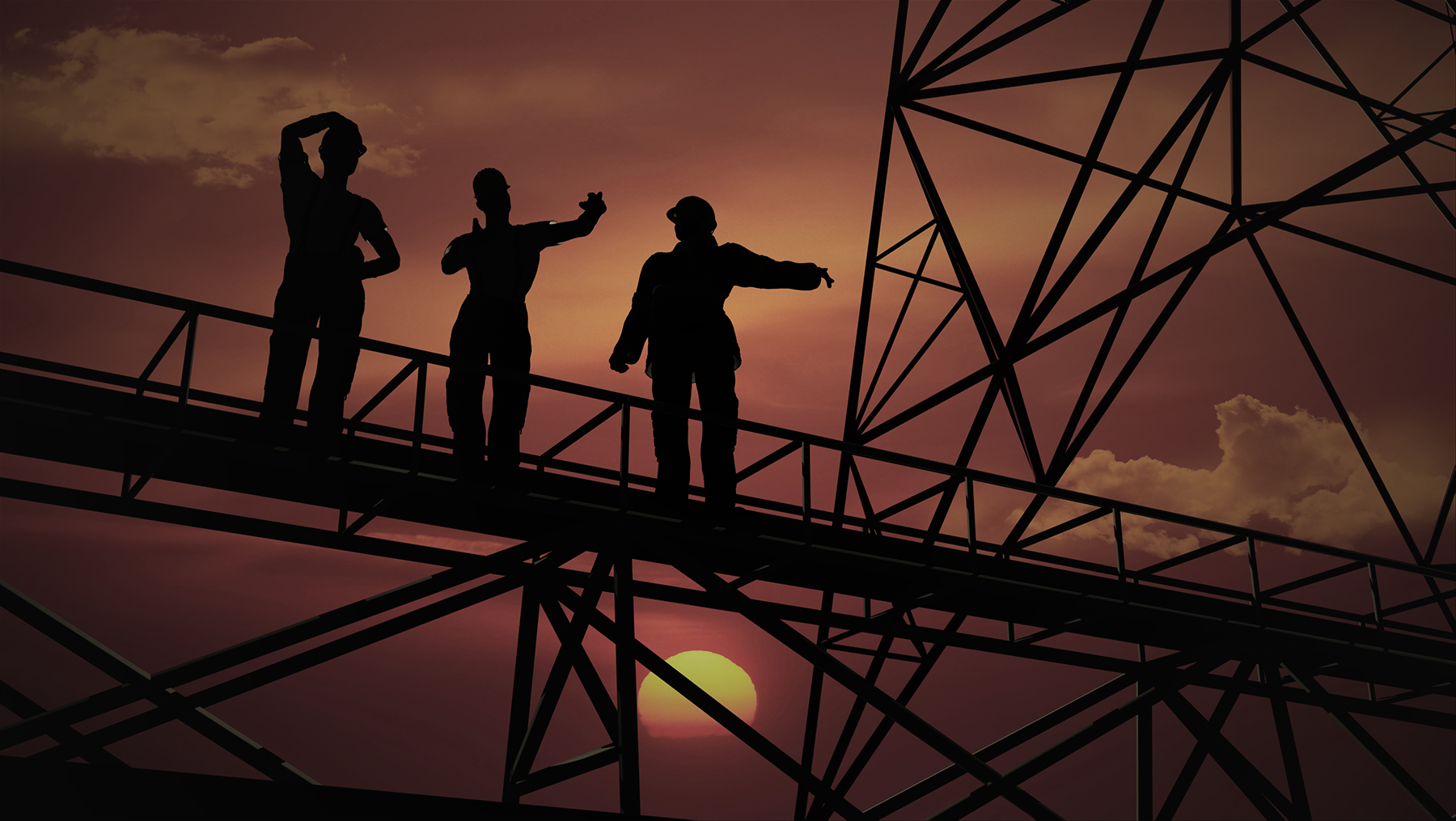 An Oil RPG
The experience places the user in the role of performing all necessary job skills to successfully complete a real-life job scenario. Varying levels of difficulty determine the amount of help the user receives, with the hardest providing virtually no assistance.
3D artists and engineers (many with gaming backgrounds) brought the scenarios to life with detailed environment, tool, and character modeling, as well as intricate animations. 'Gameplay' allows the user to use their own knowledge and skills to make their own path through the job process in hopes of achieving the given objective.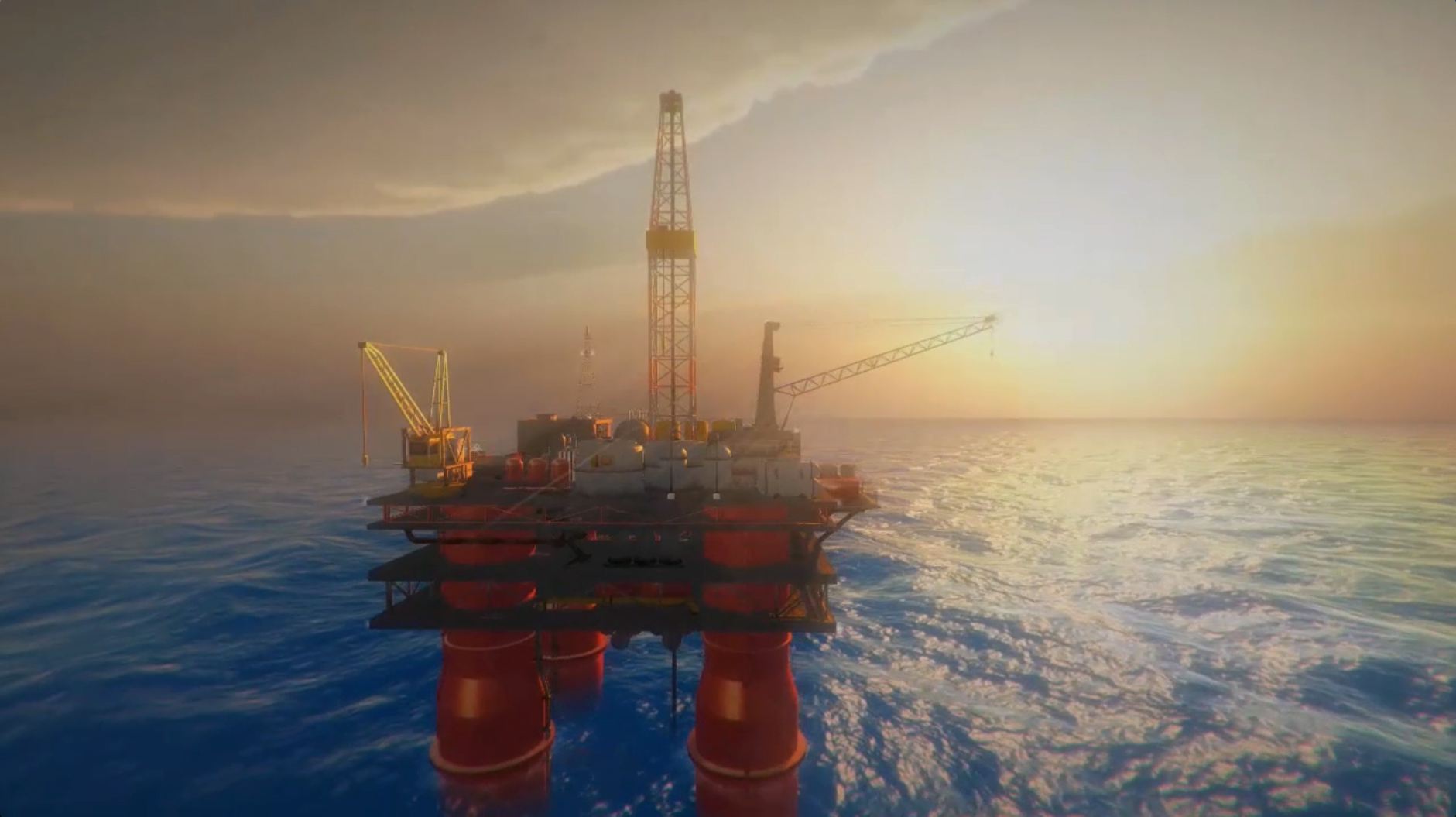 Project Modules
As the UX/UI designer, my responsibility was to build UI controls and options into the 3D environment and create separate non-3D application modules that prefaced the 'gameplay.'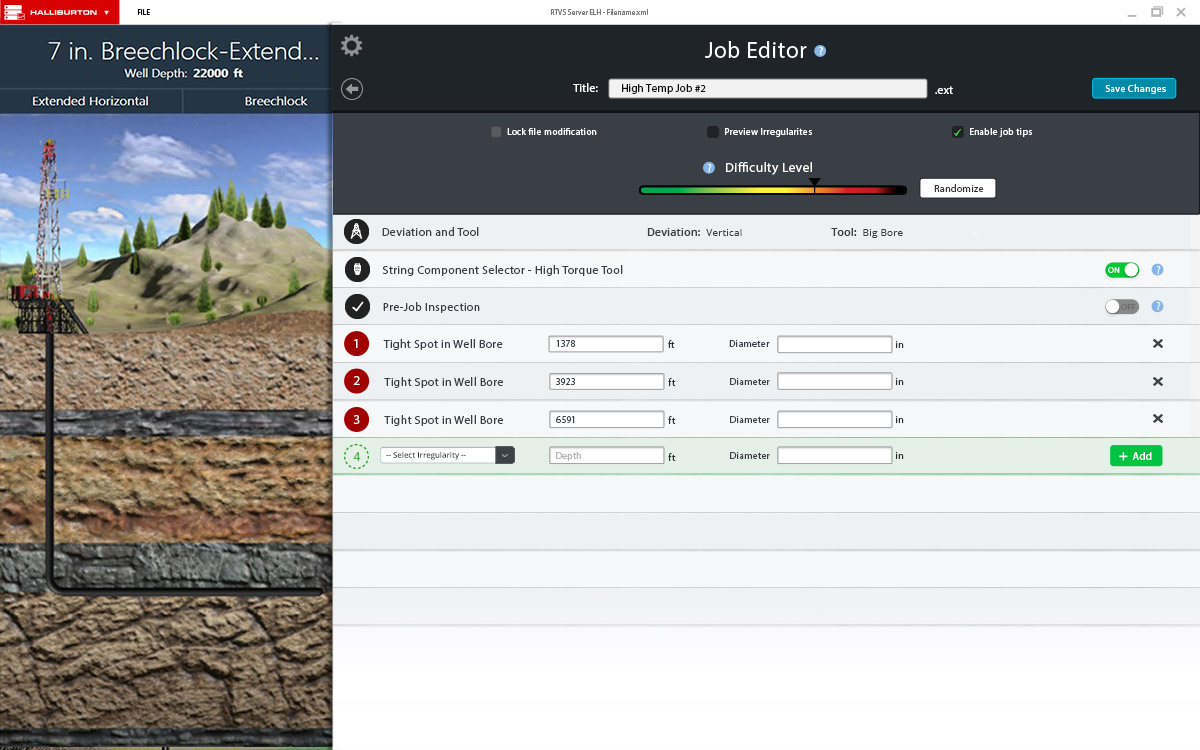 Job Picker
Initially, the job to be run is selected. These jobs can be predetermined by the instructor and locked from editing. Other jobs can be created or edited for extra practice in varying levels of complexity and difficulty.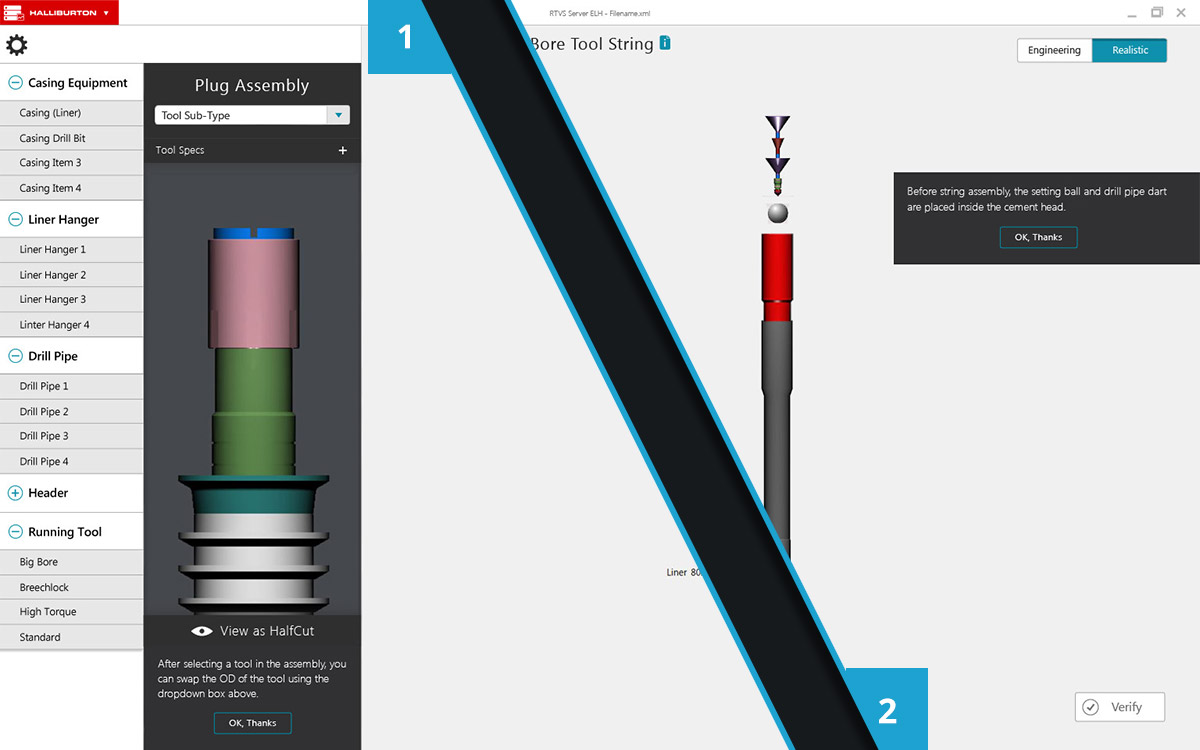 String Component Selector
After selecting a particular job to run, the user then is taught how to correctly assemble the tool (string) being sent downhole for that particular job. Different settings allow the assignment to be done with plenty, little, or no help in completing the string assembly.
The Just-In-Time learining method was integrated into this module in order to teach users of both available user interactions as well as specific job information as it becomes relevant.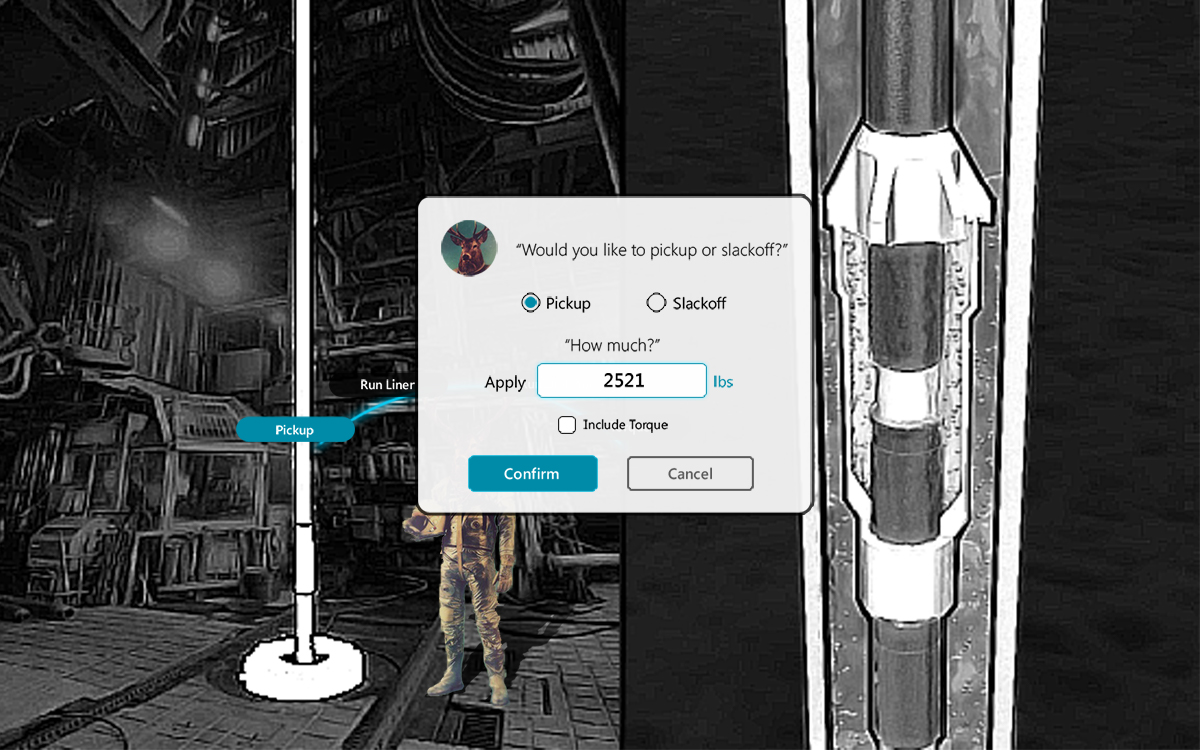 Job Simulation
The actual job simulation resembles a role-playing game, except with extremely accurate, real-life job scenarios. Storyboarding was a great method to step through complex petroleum and mechnical engineering tasks.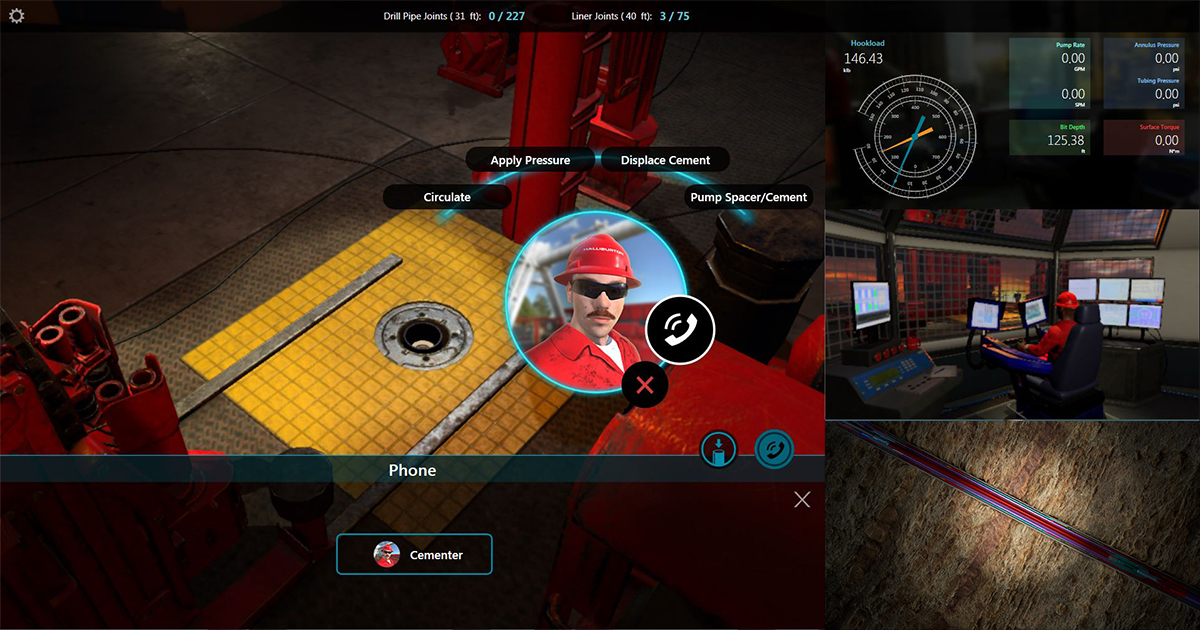 Although the application was optimized for a 3-screen learning environment, it also needed to be able to condense into a laptop without losing much usability. The various views were able to be swapped into the large display space at any given moment to check or interact with any particular screen.
Looking Forward
While the final outcome is not yet observable, many other departments were eager to begin simulations specific to their job roles.